Nefarious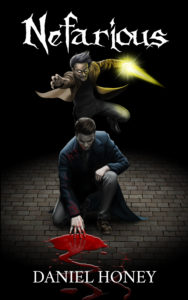 For centuries, vampires calling themselves Nefari have secretly ruled the world but their reign may be at an end. Rumors have surfaced of angelic creatures wielding blades made of the sun, their eyes burning with fire, destroying solitary Nefari like the wrath of god. As quickly as they surface, however, the so-called Angeli disappear, leading to a massive investigation by the Nefari to find them. A vampire named Rivel, whose history is steeped in blood and regret, is tasked with infiltrating human society to look for signs of the Angeli.
He eventually meets one of them but finds himself falling in love with her, a feeling he thought had long since died. She reveals the secrets of the Angeli, showing him a life he never thought possible. Rivel must ultimately decide where he stands in the impending war between the Angeli and the Nefari, choosing between the woman he is beginning to love and the life he has always known.
See the Nefarious page for more art and information on the world of Nefarious.
Out now for sale!
Regular Edition: Contains print only of Nefarious!
Art Edition: Contains all the artwork of Nefarious!